Hosting
NTD provides server, application and web site hosting at our secure facilities at the Isle of Dogs, London, the centre of the UK internet. The NTD Tier 2 network is based upon a fully resilient 100mb connection.
The facilities are temperature controlled, covered by 24/7 video surveillance and monitored for down-time every second of every day and protected by an industry-leading dedicated hardware firewall. From this network NTD provides:
Server co-location (hosting)
Server management and maintenance
Web site hosting
Application hosting
Email and DNS hosting
Domain registration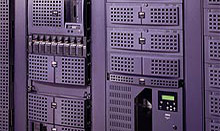 NTDs own servers are built on a Dell PowerEdge platform, offering high performance processing and connected to our network via a non-limited 100 Mb Cisco backbone. Each server is mirrored and includes RAID disk arrays for extreme reliability and full redundancy.
Daily backups and offsite storage are offered as standard.